Nutrition and Hydration Week Resources
Posters, recipes,
templates etc
pladis – McVities Tasties Biggest Virtual Afternoon Tea Challenge
Our colleagues at pladis are on a mission to host the nations Biggest Virtual Afternoon Tea Party for Nutrition and Hydration Week 2021.
Why not join the mission – you could have fun and there's a chance of winning a delicious biscuit hamper!
To support you in this mission the team at pladis have developed a brilliant activities pack full of ideas for your Afternoon Tea Party and information on how get involved.
Don't forget to read the Terms and Conditions
Staff well-being
Our friends and colleagues at Barking, Havering and Redbridge University Hospitals NHS Trust have shared some resources developed by their dietitian, Sitaara Saggar-Parikh, to support their staff well-being during the COVID-19 emergency.
Nutrition and Hydration Week 2021 Posters 
Our friends at Brakes have shared these amazing daily themes recipe posters
Colleagues and friends from Lifeview in Melbourne Australia have shared their brilliant Nutrition and Hydration Week 2021 activities. Hope they inspire you.
We loved this from @sonia_sparkles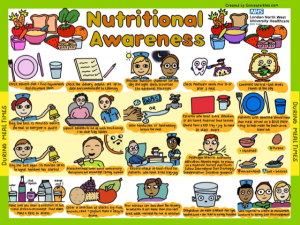 Nutrition and Hydration Week handbook
Continual Education and Professional Development (CPD)
We have developed a framework for how you can use your Nutrition and Hydration Week activity to help with your CPD
Previous issues of our
e-newsletters
Follow our Nutrition and Hydration Week 2020 journey
Nutrition and Hydration resources people have shared with us
Our friends at the CSNM and IDDSI have shared a really useful guide to implementing IDDSI
It's full of information on how to access resources to support your local implementation.
Looking to get involved?
Subscribe to our newsletter